Simplot Games Provides Internship Opportunities for College of Arts & Letters Students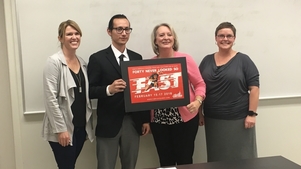 For decades, Simplot Games, the nation's premier indoor high school track and field event, has been providing internship opportunities for Idaho State University students interested in communication and graphic design.
"We are thrilled with our partnership with ISU and want to provide opportunities for their students which in turn gives them real work experience," said Lisa Woodland, Simplot Games Executive Director. "We love being able to showcase their talents and in turn potentially help them find employment."
Every year, Simplot Games has chosen two or three ISU students for an internship helping with the press before, during and after the Games. This includes creating press releases and social media content, as well as helping with the media and press during the actual event. The high-profile internship has helped students sharpen their skills in public relations and for some helped secure employment following graduation.
"The student interns we bring in to help during the Games fill a much needed role," Woodland said. "They not only help us with the large workload, but they bring creativity and ideas to the event which helps us connect with current athletes, coaches and parents."
For the past eight years, advanced graphic design students have had the opportunity to create the poster design for the next year's Simplot Games. Woodland and other Simplot Games executives then choose their favorite poster design, which later becomes the poster for the event as well as the t-shirt, pin and more
In October, Jose Erik Ortiz, a junior graphic design student, was chosen as this year's poster design winner. Ortiz is a first-generation college student and said he used the tools he learned at ISU to build his portfolio.
"When I first came to ISU, I never thought I would have a real-life opportunity to create something for a high-profile event," Ortiz said. "I honestly believe there are opportunities for everyone at ISU if you are willing to seek them out."
This February, Simplot Games will celebrate its 40th anniversary as the nation's premier indoor track and field event. Ortiz's winning graphic captured the theme and legacy of Simplot Games "Forty Never Looked So Fast."