ISU Partners with Pocatello High School to Host 2017 Idaho Art Education Association Conference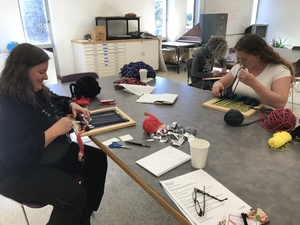 The Idaho State University Department of Art and Pocatello High School hosted the Idaho Art Education Association (IAEA) Conference October 5-7 on ISU's campus.
The conference is an annual professional development conference that draws over 100 attendees from around Idaho. The goal of the conference was for attendees to come away with innovative methods to inspire and engage students, as well as connect with a wider arena of education. Additionally, the conference gives teachers a chance to build relationships with ISU and its art faculty.
During the two-day conference, various hands-on and art literacy workshops that focused on art theory and methods were taught. Attendees also explored a collection of new resources and ideas for generating curriculum, assignments, inspiration and encouragement for their classrooms and studios.
"This conference has been going on for over forty years and is vital to advocating, strengthening and supporting art education in Idaho," said Michele Chmielewski, president of the IAEA. "Arts education is a vital force contributing to creative and innovative problem solving that imbues students with twenty-first-century skills."
The keynote speaker for the conference was Kris Musto, the Secondary Outreach Coordinator and Principal Admissions Counselor for the Minneapolis College of Art and Design. Musto spends the school year traveling and working closely with art teachers and students in high school art classrooms around the country.
This was the first time in over twenty years that the IAEA conference was held in Pocatello. The IAEA has been making an effort to move the conferences around the state to reach all art educators spread out across Idaho.
"ISU has graciously partnered with us to make this a top-notch event offering their facilities and instructors for our masterclasses," Chmielewski said.
Written by Katie Damron, College of Arts & Letters intern