Department of Political Science Student Lands Full-Time Job with Public Defender's Office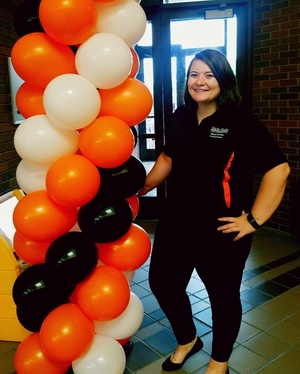 Madison Griffin never saw herself attending college, but with the help of mentors, she will be graduating with a political science degree after just three and a half years and already has a job lined up at the Bannock County Public Defender's Office.
As a high school student, Griffin participated in TRiO, a federal outreach program designed to provide services for individuals from disadvantaged backgrounds. The program introduced her to ISU and helped her through the application and admission process as a first-generation student.
"TRiO has made a world of difference in my college career," Griffin said. "I firmly believe that without TRiO, I would have never been able to go to college."
Through her first year and a half at ISU, Griffin worked 40 hours each week in addition to being a full-time student. Shane Gleason, Griffin's advisor and ISU political science professor, suggested she consider applying for a Career Path Internship (CPI).
Griffin first took a CPI position with Gleason collecting data, which gave her the opportunity to do academic research. After one year, Griffin called the Bannock County Public Defender's Office and asked if they were interested in having an undergraduate intern, and she was hired the same day.
In the beginning, Griffin wasn't sure what to expect but found herself more comfortable as time passed. Her supervisors allowed her to observe various court proceedings and helped office visitors with questions, she also gained experience working with a client.
"I had the chance to work one-on-one with a felony client on a major case and the experience was unparalleled," Griffin said. "I absolutely love and believe in the work that the public defender's office does, and being part of the defense family is an absolute privilege. I'm grateful to work in a place that supports my strides toward success."
A year into her internship, a position in the support staff became available and people within Griffin's office encouraged her to apply for it. After going through the application process, Griffin was offered the job.
Griffin will graduate in December after three and a half years at ISU, and plans to work full-time for the public defender's office to gain legal experience before applying for law school in two years.
Pursuing a law degree wasn't always in Griffin's plans. In high school, she planned on getting a certified nursing assistant certificate. She didn't see herself as someone who would go to college. When her government teacher started talking about the Supreme Court, Griffin became interested and started doing independent research on the court system.
Between her government teacher and TRiO advisor, the idea that Griffin could one day become a lawyer became part of the conversation. Now, as a student preparing to graduate with a political science degree and intentions of attending law school, Griffin has narrowed her interest to civil rights litigation.
"I have found a passion for the impact that interest groups can have changing the laws and therefore changing society," Griffin said. "I like the idea of having a real impact on the way that people are able to live their lives. Working for the public defender's office has strengthened my passion for helping people and connecting to each individual."
Griffin credits her success with the tools and relationships she has acquired at ISU. The community she has found at ISU among the students and faculty has given Griffin the chance to develop and achieve her goals.
"Without all of the opportunities that I have been given through the last three years, I would not be anywhere close to where I am," Griffin said. "I wouldn't have chosen any other place to begin my educational journey. I am excited to continue my education and represent what a first-generation student from Idaho can accomplish."
Written by Katie Damron, College of Arts & Letters intern