College of Arts & Letters Professors Nominated for Idaho State Journal 18th Annual Business and Professional Achievement Awards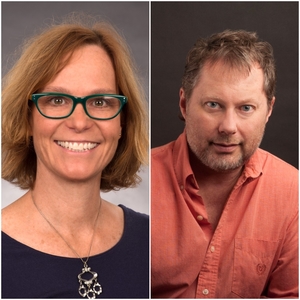 Donna Lybecker, chair and professor in the Department of Political Science, and Thom Hasenpflug, chair and professor in the Department of Music, were recently nominated and honored at the Idaho State Journal's 18th annual Business and Professional Achievement Awards. Both were nominated for the Education, University section.
The event was held at the Stephens Performing Arts Center and honored some of Southeast Idaho's best. The honorees were selected by their examples of volunteerism, selflessness and heroism.
Lybecker was nominated for this award based on her dedication to the environment, Pocatello, the community, her students, her department and ISU. She is an affiliate of many organizations across the globe including the United States EPA National Advisory Committee, the Western Social Science Association and the Sustainable Consumption Research and Action Initiative, among others.
Lybecker is an associate editor for the Social Science Journal and for the International Journal for Sustainable Society. She also works for the College Board and for the Educational Policy Improvement Center and is on the Board of Directors for Southeast Idaho's Sagebrush Steppe Land Trust.
She has been recognized many times for her accomplishments inside the classroom including the Associated Students of Idaho State University Teacher of the Year in April 2010 and as an ISU Distinguished Teacher and Master Teacher.
"Donna is a great leader inside and outside of the classroom," said dean Kandi Turley-Ames. "Her work with her students and colleagues brings great distinction to her department and the university."
Lybecker received her Ph.D. from Colorado State University in political science in 2003. Her dissertation focused on the "Decentralization of Mexican Environmental and Water Policy in Baja California and Sonora." Previous to obtaining her Ph.D, Lybecker earned a master's degree in political science at Tulane University. She also holds two bachelor's degrees in religious and Latin American studies from Grinnell College in Iowa.
Hasenpflug was nominated for this award based on his music programs and outreach with Idaho high schools.
Hasenpflug is nationally recognized as a unique performer and educational voice. His compositions for percussion receive international recognition and are played all over the world. He is a proud member of the Idaho State University music faculty, where he has taught in the department since entering as an assistant professor in 2003.
He has presented performances, clinics, residencies and master classes at many universities, high schools, festivals and society functions. A prize-winning composer, he has been commissioned by some of the field's leading percussionists. His percussion quartet, Bicksa, remains one of the most widely-programmed collegiate percussion works of the past 25 years. International performances of his works have occurred in Vienna, London, Barcelona, Hong Kong, Taiwan, Dublin, Rio de Janiero, Venezuela and Sweden, by various percussionists of note.
Over the past few years, Hasenpflug has embraced working with music programs in the local high schools of Idaho, from Idaho Falls to Boise. He encourages his faculty to visit high schools, and puts on music camps and outreach programs each year on campus.
"Through his leadership, Thom has built an exceptional music faculty and the community is fortunate to have him to collaborate with," Turley-Ames said.
Thom Hasenpflug has percussion works published through K.P.P. (a division of Malletech – MPI), Alfred Music, Bachovich Music, and C. Alan Publications, as well as his own label, "Hasenworks." He is a product endorser of Pro-Mark Sticks, Remo Drumheads, and Sabian Cymbals.