Dept. of Music Establishes New Recording Studio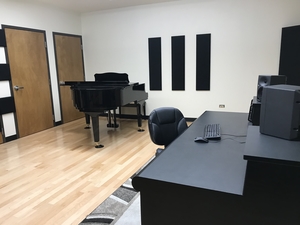 The Dept. of Music recently established a new recording studio to help prepare Idaho State University music students for careers in music.
The idea to upgrade the existing facility came years ago to department chair Thom Hasenpflug to give students an experience in line with competing universities. In 2015, Director of jazz studies and professor Jon Armstrong joined the music department faculty and helped Hasenpflug develop the new recording studio.
"When we brought in Armstrong, we began to strategize more directly about upgrading the facilities due to his experience with the recording technology," Hasenpflug said.
Armstrong said the studio scene in music has now changed to men and women in their homes mixing sounds and the traditional mixing boards are not necessary anymore.
"If you plan to be a musician, fluency with music technology is essential," Armstrong said. "Our goal is for students to leave ISU with knowledge of the fundamentals of a recording studio."
The studio will help students know the basics from standing at the microphone to how to record at home. It will also help future music teachers teach students how to edit music and use the equipment.
The recording studio will help the music department place an emphasis on student compositions and recordings. It will also help students produce their own music in a professional space and can help ISU produce more music.
The studio is currently being used to record graduate school and other auditions. In addition, a new recording technology class started this semester, and the studio will also be used in the literary journal Black Rock & Sage submissions.
CONTACT
(208) 282­-3204
(208) 282-4610
921 S 8th Ave, Stop 8087 Pocatello, ID 83209­-8087