College of Arts & Letters Alumni and Supporters receive 2017 Idaho State University Homecoming Awards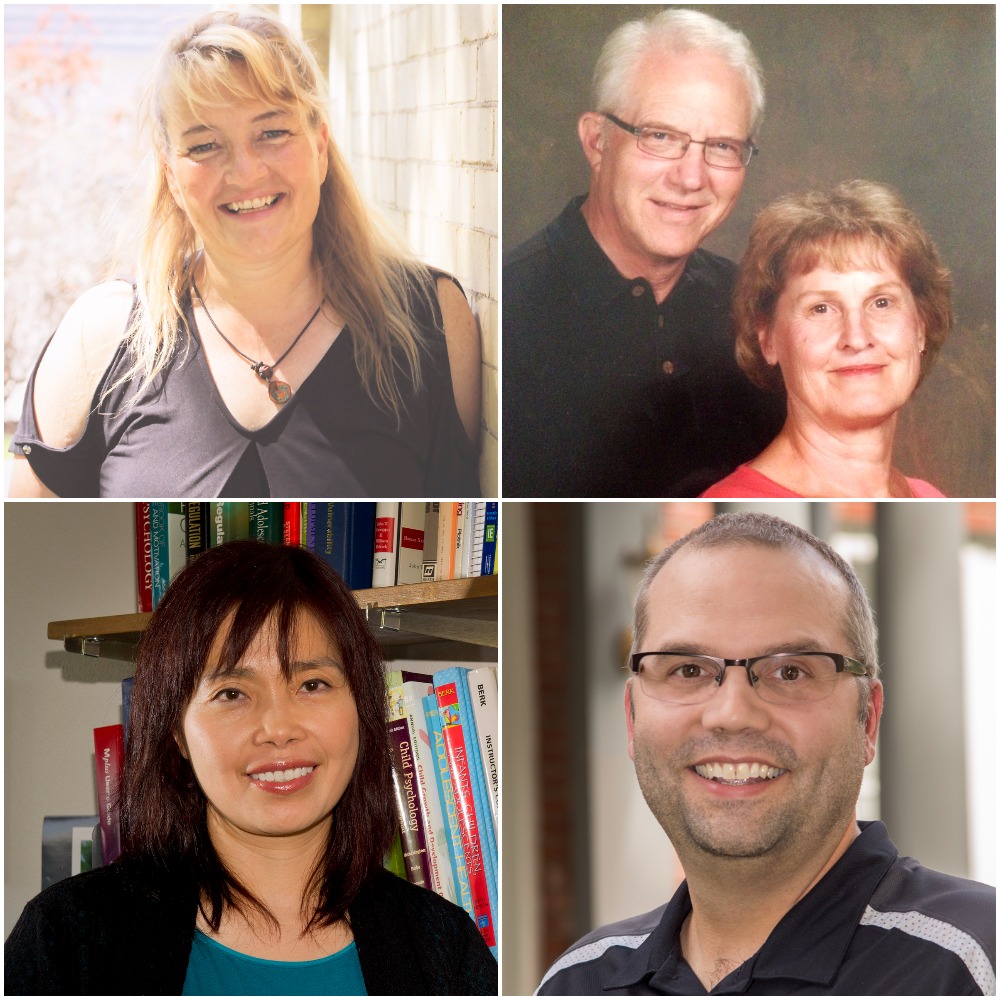 Four College of Arts & Letters alumni and supporters received 2017 Homecoming Awards from Idaho State University. The recipients were chosen for their work both on and off campus. They will be honored at the President's Alumni Recognition Dinner on Sept. 29. Biographies of the winners follow.
ISU Distinguished Service Award — Debbie Green — Green is the director of scholarships at Idaho State University. Born and raised in Idaho Falls, Green was recruited to play golf at ISU and was voted one of the most valuable players of the Big Sky Championship team in 1994.
Green earned her Bachelor's in Business Administration degree in management and Master's in Public Administration degree from ISU, and has worked at the university for more than 20 years. As a grant writer for the Institute of Rural Health, Green brought in more than $2 million in grant funding. She was the director of the Idaho Rural Health Association, Idaho Community Health Corps, Idaho's Health Repayment and Community Scholarship Programs and more. Green has been a first-year seminar instructor, is past president of the ISU Women's Club and serves on various boards and committees geared towards helping students pursue their career goals.
In 2011 Green became associate director of scholarships, and in 2016 was promoted to director of scholarships. Debbie is married to David Green of Pocatello and has three sons, Nate, Zach and Scott.
ISU Achievement Award – Maria Wong – Wong is professor and director of the Development and Resilience Lab in the Psychology Department at ISU. She received her Ph.D. in developmental psychology from the University of Chicago and completed postdoctoral work in substance use at the University of Michigan.
Her research examines risk and protective factors associated with important developmental outcomes such as substance use, suicidal behavior and resilience. Her current work focuses on understanding how sleep and self-regulation (control of affect, behavior and cognitive processes) affect substance use.
Her work has been funded by the National Institute on Alcohol Abuse and Alcoholism and National Institute of General Medical Sciences. Her research was cited in articles published by National Public Radio, Time Magazine, BBC, CNN, NBC, Reuters and the Associated Press.
President's Medallion Award— Alan Stanek — Stanek and his wife Janette, established the Alan E. Stanek Scholarship Endowment to provide an annual award to a student in the Music Education Program.
Stanek is a highly respected musician who has been honored both locally and internationally. He is an accomplished clarinetist who has taught and performed worldwide, serving in many distinguished positions, such as president of the International Clarinet Association and president of the Gate City Rotary Club.
Before obtaining his status as a professor emeritus with ISU's music program, he served as conductor of the Idaho State-Civic Symphony 1976-1980, and chair of the Department of Music during his entire tenure at ISU 1976-2001. Janette Stanek earned her Master of Education degree in special education at ISU. Music scholarships benefit students majoring in music who possess the desire to teach, perform, inspire and instill appreciation for the art of music
ISU Alumni Special Friend – Terry Fredrickson ­– Terry Fredrickson is the co-owner of the Gate City Gray's, CEO of New Day Products, serves on the Bannock Youth Foundation and is a past Vice President for ACCESS Idaho. He has served on the Regional Advisory Committee for substance abuse programs in Pocatello, and the Governor's Council for the purchases from a non-profit serving people with disabilities.
Civic affiliations for Fredrickson include membership with Civitan, the Centennial Rotary Club and the Gate City Grays Booster Club.
A graduate of the ISU leadership program, Fredrickson is also a volunteer and a sponsor of American Legion Baseball.
He is a recipient of the Commitment to Community award for his work to increase opportunities for individuals with disabilities. Fredrickson earned an associate's degree from College of Southern Idaho and a bachelor's degree in political science from Idaho State University.
CONTACT
(208) 282­-3204
(208) 282-4610
921 S 8th Ave, Stop 8087 Pocatello, ID 83209­-8087