Black Rock & Sage Gives ISU Students a Creative Outlet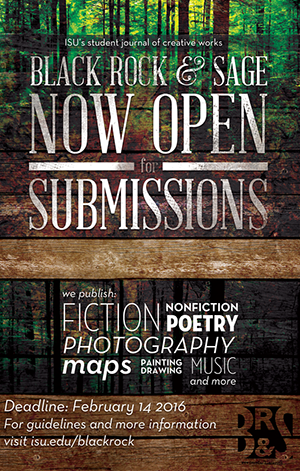 For decades ISU has been home to literary journals that offer students unique opportunities to be involved with publishing their own creative works. Today, Black Rock & Sage continues ISU's literary journal legacy by including work across many disciplines and setting goals for future expansion.
Black Rock & Sage is published annually through the Department of English and Philosophy, with assistance from the art and music departments. Each aspect of the journal, from design and editorial decisions to artistic contributions, is produced by students, a feature in which Black Rock & Sage takes great pride.
"By publishing ISU students exclusively, we aim to provide a look into the creativity students have to offer," said Anelise Farris, editor-in-chief of Black Rock & Sage and ISU graduate student. "Despite the variety of different texts we publish, and the range of different authors, it all manages to come together to give a unique, Southeastern Idaho perspective."
ISU's literary journal has evolved over the years. It originated in the 1970s with a publication called The Last Stop Before the Desert, which became LSBD in the 1980s, and in the 1990s, it was known as Ethos. In 2002, the journal became "Black Rock & Sage."
With the new name came a new approach to the on-campus literary journal. Under the advisement of Susan Goslee, a professor in the English department, Black Rock & Sage has expanded to include submissions across many disciplines, including art, music, history and others.
Black Rock & Sage offers a wealth of opportunities to students who choose to participate. In addition to submitting original creative works to the journal, students can get involved in the production and design of Black Rock & Sage if they've taken the proper prerequisite courses. There is also a Black Rock & Sage club that sponsors events and activities, including hosting visiting writers throughout the year.
"Making other departments more aware of us is certainly on our goals list," Farris said. "We also have dreams of publishing two issues a year, perhaps digitally. Dr. Goslee is always hoping for maps and other unique submissions that can be viewed aesthetically—beyond the traditional art and texts we receive."
Recently, the journal has hosted a writing contest for high school students in Bannock, Bingham and Bonneville counties. Students can submit their work in poetry or prose for the chance to get published in Black Rock & Sage.
ISU students can submit their original creative works by Feb. 14. More information about the journal, including how to submit, can be found at isu.edu/blackrock.
Written by Katie Damron, College of Arts & Letters intern
CONTACT
(208) 282­-3204
(208) 282-4610
921 S 8th Ave, Stop 8087 Pocatello, ID 83209­-8087