Associate Dean Randy Earles Named Pocatello Rotary President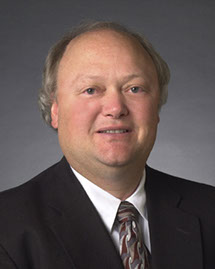 College of Arts & Letters associate dean Randy Earles recently assumed the Gate City Rotary Club president position. As the new president, Earles will be supervising the various activities that the Rotary club sponsors.
"Each president brings new ideas, but I didn't want to change much," Earles said. "Rotary International selected the theme 'Rotary: Making a Difference' this year and that is exactly what I want to continue to do in Pocatello."
Earles has been volunteering with the Rotary for 15 years. He began attending meetings with former music department chair Alan Stanek. Stanek invited Earles to become a Rotarian, but Earles turned him down a few times before he eventually thought "yes, I'd like to be involved with an organization like this."
Earles will serve a one-year term as president. He previously served as the vice president, president-elect, and will be the past president after his term is done.
Rotary is a service organization composed of community leaders including realtors, attorneys, dentists, politicians, accountants, educators and business leaders. Members raise money for humanitarian and charitable organizations, and volunteer time for service projects.
The Gate City Rotary Club provides dictionaries to all third graders in School District #25, helps with the Salvation Army, heads the annual ISU flag project, volunteers at the annual Portneuf Valley Paintfest, gives to the Rotary Foundation overseas to help eliminate Polio, and more.
This year, through funds raised from the ISU flag project, the Gate City Rotary Club will help the Bannock County Fire and Rescue team outfit a trailer that they can use as a command center during different crises. They will also continue their various plans with exchange students, international organizations and community projects.