Arts & Letters Students Named CPI of the Month for Three Consecutive Months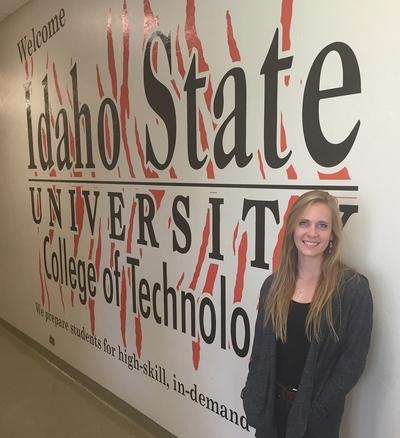 For the last three months, Arts & Letters students have been named as Idaho State University Career Path Interns (CPI) of the month. Students have had access to unique opportunities through the CPI program that enhance their educations and better prepare them for careers.
"Being able to provide real-world work experiences for our students is important to us," said dean Kandi Turley-Ames. "Our students will graduate not only with their degrees, but with significant work experience that they can transfer to their careers."
Stephanie Bachman, a senior majoring in English with an emphasis in public relations, was October's CPI of the month. She is an intern for Continuing Education and Workforce Training (CEWT), which is part of the College of Technology.
Bachman's primary responsibility at her internship is informing the public about CEWT's programs that promote professional development, workforce training and continuing education. Specific duties include writing articles for the CEWT catalog, managing the departmental blog and publishing articles in the Idaho State Journal.
Jerimiah Phillips, a senior majoring in anthropology, was November's CPI of the month. He has been working with Katherine Reedy, professor and chair of the anthropology department, on a comprehensive survey of the Aleutian community of Sand Point, Alaska.
During this ongoing project, Phillips' focus has been distilling the survey results and using GIS technology to build maps of the surveyed households. The results of this survey will help provide information on Aleutian communities, their interactions with their environment and insights on improving fish and wildlife management in the area.
Leah Kollmeyer, a senior pursuing a bachelor's degree in psychology, was December's CPI of the month. She has been working with Michelle Brumley, chair of the Department of Psychology, to conduct research on the effects of spinal cord injuries to better understand neural and behavioral plasticity and relations between neural development and musculoskeletal development.
Kollmeyer presented data from her project at the 50th Annual Meeting for the International Society for Development Psychology, which was held in Washington D. C. in November. She also presented her own poster and was co-author of another poster at the meeting.
The work of these three students is reflective of the CPI program as a whole. Students campus-wide are given the opportunity to succeed by having hands-on experience working closely with faculty members and departments.
Written by Katie Damron, College of Arts & Letters intern
CONTACT
(208) 282­-3204
(208) 282-4610
921 S 8th Ave, Stop 8087 Pocatello, ID 83209­-8087