Anthropology Student Gains Research Experience from 1,000 Year Old Burial Site
Haley Mortin, a sophomore at Idaho State University from Boise, is currently working with Associate Professor John Dudgeon and graduate students Olivia Franklin and Rebecca Hazard on cutting-edge archaeological research in ancient DNA and bone preservation studies in the ISU Center for Archaeology Materials and Applied Spectroscopy (CAMAS).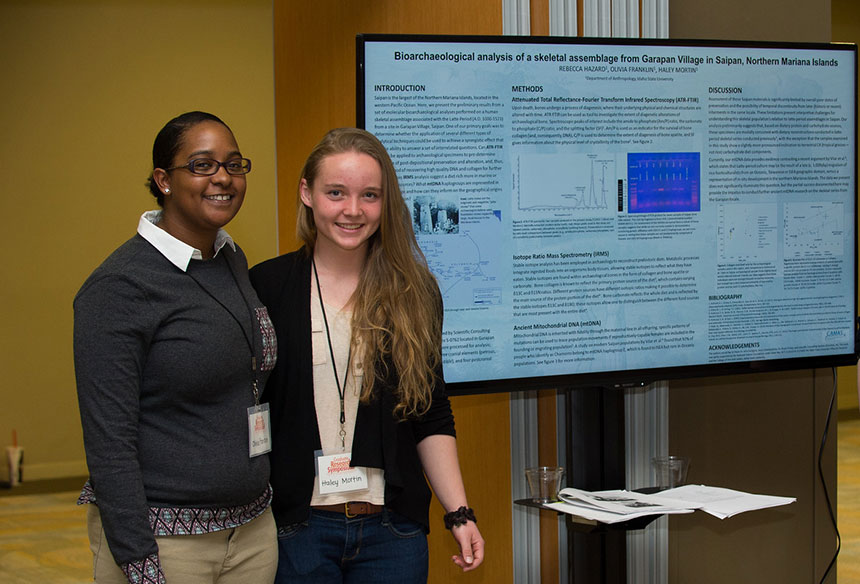 Mortin, an ISU Career Path Intern, exemplifies the type of opportunity the CPI program offers. As a freshman, this program allowed her to engage in high-level research, culminating in Mortin being a co-author on the winning Social and Behavioral Science poster at the 2016 ISU Graduate Research Symposium.
Mortin, an anthropology major, was working on a project examining some human skeletal remains recovered from a salvage excavation in Saipan, an island in the Northern Mariana Islands, Federated States of Micronesia.
"This project seeks to understand what the people at this site ate using stable isotope analysis, and where founding populations came from using paleogenetic, or ancient DNA analysis," said John Dudgeon, director and research scientist for CAMAS. "The excavation site was a cemetery, expected to be about 1,000 years old that contained over 400 burials. The site is affiliated with the Latte-period cultures of Micronesia, people who made large stone pillars and had a complex, hierarchical social system."
Mortin's portion of the project was to help understand the overall level of preservation of the skeletal samples in order to target dietary and genetic efforts on specimens where the ancient biomolecules were better preserved.
She used a technique called ATR-FTIR (Attenuated Total Reflectance-Fourier Transform InfraRed Spectroscopy) to identify which specimens had the highest spectral signatures for certain organic and inorganic molecules, which would indicate that they were better preserved and a good target for our time-consuming and expensive diet and genetic analysis. Mortin also participated in the extraction of ancient DNA on a portion of these samples, and will come back in fall 2016 to do further work on the stable isotope portion of the project.
"Our goal is to perform these analyses on about 80-100 individual skeletons, and we have completed about 25 to date," Dudgeon said.
Mortin attended Timberline High School in Boise and is also an ISU presidential scholar and a freshman honors scholar.
"I came here not really knowing what I wanted to," Mortin said. "I started reading about the professors to see which ones were doing interesting things. It helped me figure out what I wanted to do with my life."
The past academic year ISU has provided approximately 900 students valuable professional experience through the Career Path Internship program.
"I think that this is a really incredible program for getting undergraduate students involved with research," Mortin said. "The CPI program helps students figure out what they want to do and how they want to do it."
As part of the Career Path Internship program, the ISU Career Center offers the New Student Internship Program geared toward freshmen. A pool of 50 freshmen and new students are selected for this program each year. To participate, incoming freshman must fill out an application and have a minimum GPA of 3.25 to be considered for hire.
These 50 students are guaranteed 15 hours of work a week for the spring and fall semesters. It is not a scholarship or lump sum of money.
"The program is really focused on giving students real-world, hands-on experience, while they are still in school," said Emily Jahsman, Career Path Internship manager. "No matter what your career goal is, there should be an internship available for you to gain that real-world experience that will help you stand out from a pool of applicants when you graduate."
The Career Path Internship program at ISU offers students a part-time job that is related to their degree choice. This program was started six years ago and had $300,000 in funding for 260 students. There is now $ 2.3 million in funding and about 980 internship positions.
"We are hoping to hit 1,000 this school year for positions," Jahsman said "We are already above last year's total."
Undergraduates are paid $9 an hour, graduate students are paid $11 an hour and doctoral students are paid $13 an hour.