Visiting Artist Archive
2021-2022
Caitlin Harris (with Pinyon Jay Press)

2020-2021
Andrew Nordin

2019-2020

Andrew Huot (with Pinyon Jay Press)

2018-2019
Angela Batchelor
Velma Bolyard
Samantha Briegel
Shelsea Dodd
Jiyoun Lee Lodge
Samantha Momeyer
2017-2018
Sunshine Cobb
2016-2017
Lily Lee
Jessica Spring (with Pinyon Jay Press)
Kerri Cushman (with Pinyon Jay Press)
Virginia Bradley
Tara Wilson
2015-2016
Lisa Barber
Basia Irland
Jill Annie Margaret
Ramon Murillo
Dylan Miner
2014-2015
Consuelo Jiminez Underwood
2013-2014
Mary Laird (with Pinyon Jay Press)
Leslie Rego
2012-2013
Sasha Duerr
Events Archive
C.A.M.P. - Communication, Art, Media, and Persuasion
Summer of 2015, 2016, 2017, and 2018
A first of its kind program in Southeast Idaho, CAMP (Communication, Art, Media, and Persuasion) is a two-day college experience for high school students. Participants will stay in the Rendezvous Complex, ISU's newest living facility which combines classroom, housing, dining, and social spaces, tour and experience the ISU campus, including an outdoor Concert on the Quad and attend workshops of your choice offered by ISU faculty.
These workshops are designed to display the breadth of offerings at ISU, as well as provide students with a chance to experience hands-on, college-level courses. Students have the opportunity to develop 3-D Models (and possibly even have yours printed to take home), work with mixed media and found objects to create a sculpture, produce a television program using Southeast Idaho's most advance television studio, create their own unique handmade books with upcycled materials and develop a website highlighting the experience.
Visiting Printmaker Andrew Huot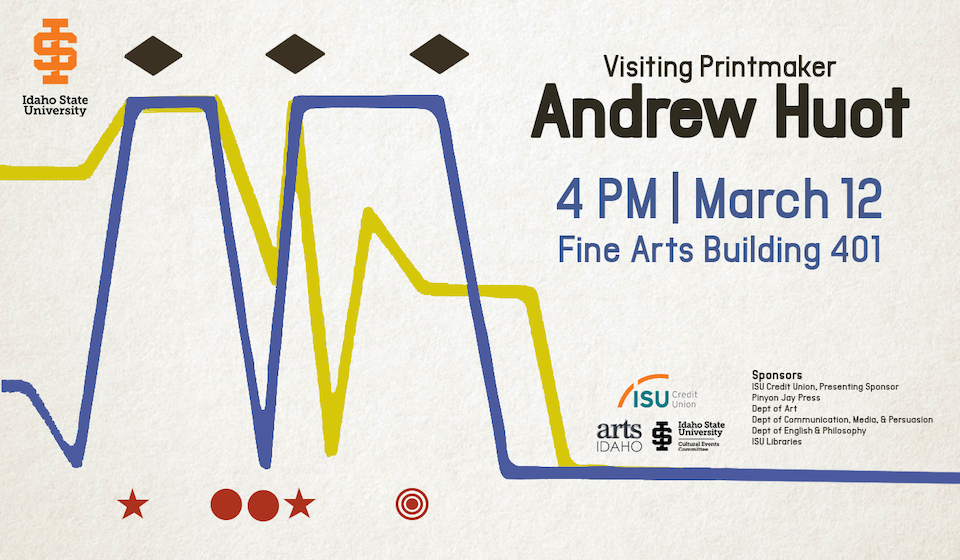 The Pinyon Jay Press is pleased to announce a free lecture on the art of printmaking, delivered by visiting artist Andrew Huot from Atlanta, Georgia. Mr. Huot will discuss his books and letterpress artwork from 4:00-5:00 p.m. on Thursday, March 12, in Room #401 of the Fine Arts Building. He will also present a two-day pressure printing workshop, making use of the equipment available in the Pinyon Jay Press VisComm Experimental Lab, on Friday, March 13, and Saturday, March 14. Seating is limited for the workshop; if interested, please contact Gretchen Jensen (jensgret@isu.edu; 208-282-2361) to reserve a spot and pay the $15 materials fee for this two-day tutorial.

The Pinyon Jay Press thanks the following sponsors for their generous support in funding this event: ISU Credit Union, Presenting Sponsor; Idaho Commission on the Arts; ISU Cultural Events Committee; ISU Department of Art; ISU Department of Communication, Media and Persuasion; ISU Department of English and Philosophy; and ISU Libraries.