VISITING ARTISTS + EVENTS
Visiting Printmaker Andrew Huot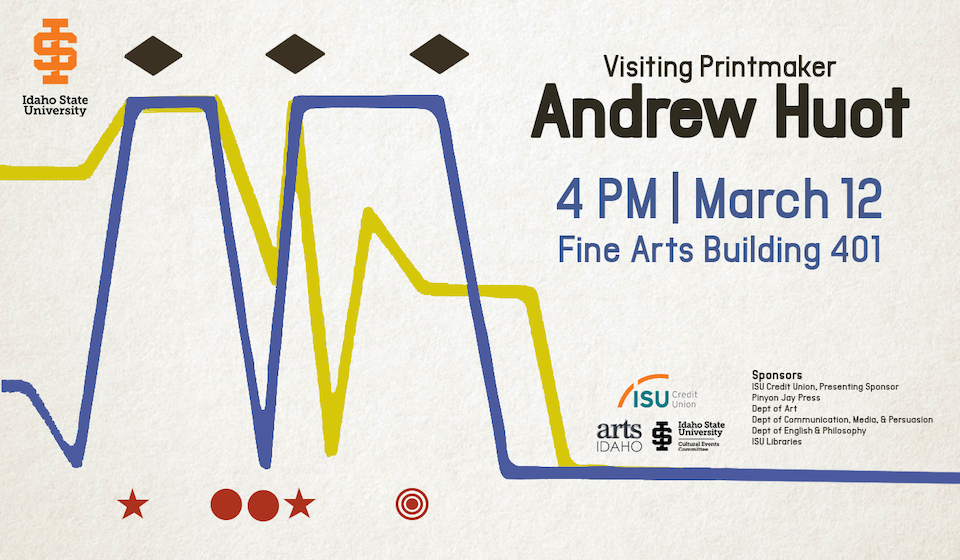 The Pinyon Jay Press is pleased to announce a free lecture on the art of printmaking, delivered by visiting artist Andrew Huot from Atlanta, Georgia. Mr. Huot will discuss his books and letterpress artwork from 4:00-5:00 p.m. on Thursday, March 12, in Room #401 of the Fine Arts Building. He will also present a two-day pressure printing workshop, making use of the equipment available in the Pinyon Jay Press VisComm Experimental Lab, on Friday, March 13, and Saturday, March 14. Seating is limited for the workshop; if interested, please contact Gretchen Jensen (jensgret@isu.edu; 208-282-2361) to reserve a spot and pay the $15 materials fee for this two-day tutorial.

The Pinyon Jay Press thanks the following sponsors for their generous support in funding this event: ISU Credit Union, Presenting Sponsor; Idaho Commission on the Arts; ISU Cultural Events Committee; ISU Department of Art; ISU Department of Communication, Media and Persuasion; ISU Department of English and Philosophy; and ISU Libraries.
7th Annual Art a la Carte & Chili Fundraiser
Date: February 27, 2020
Time: 5:00pm - 8:00pm
The Department of Art welcomes the university and community to attend the 7th Annual Art a la Carte & Chili Fundraiser. Initiated in the Spring of 2014, the event encourages community and university support for students. The success of the fundraiser has contributed in the creation of art scholarships and finances special department activities. This wonderful event is consistent of a silent art auction (artwork donated by students, alumni and faculty), a chili dinner (cooked by faculty and graduate students) and children's art activity.