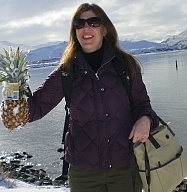 *Katherine Reedy, Ph.D.
Professor and Department Chair
Office: Graveley 151
I received my PhD from the University of Cambridge (Pembroke College) in Social Anthropology in 2004. Raised on a farm in Idaho, I am lucky to work in my home state doing what I love. I am split between my home in Idaho and my research home in Alaska, frequently traveling all over the state on various projects and currently serving on the Scientific and Statistical Committee of the North Pacific Fishery Management Council. I am raising two sons in Pocatello, and we are avid downhill skiers, hikers, fishermen, and budding snowmobilers.