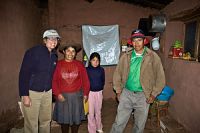 *Elizabeth Cartwright, Ph.D.
Professor
Office: Graveley 159
Background
Elizabeth Cartwright is a Professor in the Department of Anthropology. Cartwright is an applied medical anthropologist and a registered nurse. She is the Director of the Hispanic Health Projects and the Latino Studies Program at ISU. Cartwright received her BSN from the University of Arizona in 1989 and her Ph.D. from the University of Arizona in 1998. Awards from the Inter-American Foundation and from the University of Arizona funded her dissertation research on immigration and health issues among the Amuzgo Indians of Oaxaca, Mexico.
Since coming to ISU she has received $1.9 million dollars in grant monies as the PI or the Co-PI on medical anthropology and community based participatory research projects. She is an instructor for the National Science Foundation, Short Courses on Research Methods online summer courses.
Cartwright is co-founder of Crescendos Alliance, Inc. a non-profit organization that works to create innovative solutions to health disparities in Latin America.
Peaches for Lunch: Creating and Using Visual Variables
Elizabeth Cartwright & Adam LaVar Clegg
To cite this article: Elizabeth Cartwright & Adam LaVar Clegg (2017) Peaches for Lunch: Creating and Using Visual Variables, Medical Anthropology, 36:6, 519-532, DOI: 10.1080/01459740.2017.1321643
Peaches for Lunch Vimeo Video