Staff
Lorinda K. Smith
Laboratory Director, Clinical Assistant Professor
208-373-1771
Lorinda Smith is the Director of the Treasure Valley Anatomy & Physiology Laboratories and oversees the personnel, operations, and development of all the laboratories. Lorinda began at TVAPL in May, 2015. Prior to ISU, she taught human gross anatomy, neuroanatomy and related courses to graduate professional students at University of Utah. She started teaching gross anatomy in 2004.
Lorinda completed a B.S. in Biological Science at Northern Arizona University. She has a Master's in Occupational Therapy and worked in physical rehabilitation before returning to the University of Utah to complete a Master's of Philosophy, a Higher Education Teaching Specialist Designation, and advanced graduate work in the neural control of movement in Parkinson's Disease. She has served on the American Association of Anatomists Advisory Committee for Young Anatomists and the Educational Advisory Committee, and has received several graduate student and young faculty research presentation awards for both educational and motor control research.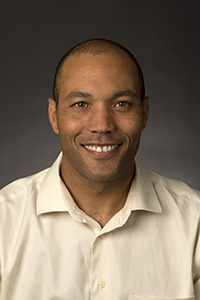 Noah Harper
Associate Laboratory Manager, Bioskills Lab Supervisor
208-373-1828
Noah Harper is the Supervisor of the Bioskills Laboratory and has been integral in its development. He is actively engaging groups both locally and nationally to foster the success of this unique enterprise. In his position as the Associate Laboratory Manager, Noah assists in the supervision of the Gross Anatomy Laboratory including training and oversight of Lab Technicians and Interns.
Noah joined the Treasure Valley Anatomy & Physiology Laboratories as a Laboratory Specialist in August, 2015 and was promoted to Bioskills Supervisor and Associate Laboratory Manager in July, 2016. He received his training in the anatomical sciences at the University of Utah and began teaching anatomical sciences in 2007. Noah is an active member of the American Association of Anatomists and has served on the Public Affairs and Strategic Planning Committees. As an outdoor enthusiast, Noah spends his free time exploring the mountains and river canyons surrounding the Treasure Valley and beyond.
Padma Gadepally
Educational Program Coordinator
208-373-1884
Padma Gadepally is the Educational Program Coordinator at the Treasure Valley Anatomy & Physiology Laboratories (TVAPL). Her responsibilities include coordinating the use of the Anatomy Instruction Studio for live and asynchronous distance learning for multiple user groups, expanding outreach to various user groups ranging from high schools to professionals interested in accessing the labs, utilizing a variety of teaching methods and technologies available in the labs, and providing assistance in seeking grant funding for community programming.
Padma has an extensive background in Anatomy and Physiology. She graduated from medical school in India with top honors, earning a MBBS (Bachelor in Medicine & Surgery) degree in 2000 and subsequently worked for many years as a health care provider and clinical researcher in and around Boise. She has experience with live and online teaching in addition to success with grant writing. Padma graduated Summa Cum Laude from Boise State University with an MHS (Masters in Health Sciences) in 2014 and worked at the Center for Health Policy as a Research Associate before starting at TVAPL in January, 2017. Padma enjoys spending free time with her loving family, dancing to the beat of music, and treasuring the wonderful Idaho outdoors.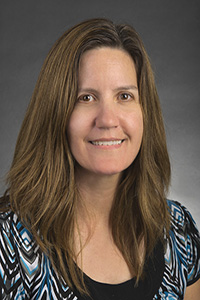 Nancy Carpenter
Laboratory Administrative Assistant
208-373-1819
Nancy Carpenter is the Administrative Assistant at the Treasure Valley Anatomy & Physiology Laboratories (TVAPL). She provides administrative support and guidance for all TVAPL staff and assists lab volunteers, anatomy students and faculty, bioskills lab users, and other visitors to the laboratories.
Nancy began her career at ISU Meridian working in the Administration department in 2010. There, she worked in the Student Services front office assisting students, faculty and staff. She then transferred to the TVAPL in January 2016 and has been integral in lab development and in establishing TVAPL general safety and recordkeeping compliance training. Prior to ISU, Nancy worked in the payroll and accounting industry. In her free time, Nancy enjoys bike riding and spending time with family.
Ashley Fraens
Laboratory Technician
208-373-1893
Ashley Fraens is a full-time lab technician at the Treasure Valley Anatomy & Physiology Laboratories. She facilitates the day-to-day use and maintenance of the laboratories, aids faculty and staff, and provides support and direction for part-time lab technicians and volunteers. Ashley began at TVAPL in August of 2021.
Ashley earned a Bachelor of Science degree in Biotechnology from California State University of San Marcos in May of 2021. Throughout her undergraduate career she developed knowledge in Organic Chemistry, Cellular and Molecular Biology, Organismal and Population Biology, Experimental Design and Statistical Analysis, Calculus with Applications, Animal Physiology, and Physics for the Biological Sciences. Her undergraduate research included scientific discovery of light inducible promoters in Isochrysis galbana gene expression. Other undergraduate research included the analysis of the cellulolytic potential of genes after isolation from cow rumen microbiome and transformation into recombinant cellulase producing genes in Escherichia coli. Ashley has technical skills and experience in light microscopy, biochemical characterization of cells, infrared spectroscopy, DNA extraction, melting and boiling point analysis, genetic transformation, distillation, enzymatic assays, crystallization, spectrophotometry, and column and thin layer chromatography. Ashley has a passion for learning and science. She aspires to be a Medical Laboratory Scientist and plans to apply to ISU's MLS program in Fall of 2022. During her free time, Ashley enjoys taking her three English Bulldogs to the park and going on walks.